Dementia Care - Southend
We've launched our Silver Birch Dementia Care Day Centre in Southend in Partnership with St Luke's. Thanks to everyone who came by on the day including the Ladybirds Group who entertained all our clients and visitors.
Paul Ramsden, Chief Executive of Carers Choices and Father James, St Luke's Church.
St Luke's
We have now launched out new Day Service in Partnership with St Luke's in Prittlewell, Southend-on-Sea. Friday the 31st March was our official launch and open day, so come along from 11am to see it up and running.
It is open 5 days a week from 9.30 to 3.30pm, free taster sessions are available phone 01268 881136 and speak to Angela for further info.
St Luke's Church
St Luke's Road
Southend On Sea
Essex
SS2 4AB
The Silver Birch Centre is a specialist dementia day care centre for over 65's located in Thundersley, Benfleet, Southend-on-Sea and Vange, Basildon.
The Glen Grove Centre is our young onset dementia club for the under 65's located in Thundersley, Benfleet.
Our centres are staffed by trained activity coordinators and volunteers which enable us to offer an unique environment for those living with Dementia. Our approach is to stimulate and lead a full activity programme during the 6 hours from 9.30 until 3.30pm. We can also transport clients into the centres.
We encourage you to visit and see first hand the excellent day care facilities and environment that we provide. Everyone is offered a free taster session to see if this works. Please contact Angela on 01268 881136 for further details and to organise a visit to either centre.
Families should have 24/7 access to people with dementia in hospital to keep them 'anchored to the world' they love
MPs have given their backing to John's Campaign to make it an 'inalienable right' for families to stay with people with dementia when they are in hospital.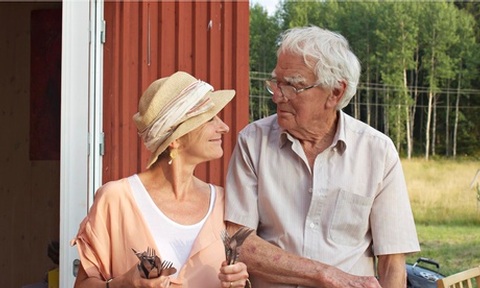 John's Campaign was set up by Nicci Gerrard and Julia Jones to call for families and carers of people with dementia to be allowed to remain with them in hospital for as many hours of the day and night as necessary.
Since launching it late last year, the campaign has quickly gathered momentum garnering support from the likes of MPs Diane Abbott and Keith Vaz.
The Silver Birch Centre with actor Tony Haygarth on BBC Look East - raising awareness of dementia and the excellent care we can provide.
A Carer's Tale
"I liken Alzheimer's disease to a burglar who keeps coming back, no matter how many security systems you put in place, taking more and more until there is nothing left. It is a uniquely cruel disease that dismantles personalities and strips away the ability to perform basic tasks, such as washing and getting dressed, while triggering deeply upsetting behaviours.
My mum did everything in her life. Now she is being catastrophically let down by those who should be helping her
My mum did nothing to bring on her Alzheimer's , but there is no way to prevent it. That is what makes dementia so terrifying: it can happen to any of us. When my mum was diagnosed, we were so unprepared. We should have been told what to expect and when to expect it. My mum was given sage dietary advice, and told to do crosswords and take exercise, but not helped to plan for when the disease took hold.
Her deterioration was so rapid that it completely overwhelmed us. Doctors, when you can get hold of them, only provide more tablets, one of which made my mum extremely aggressive. Everything we have done since has been reactive, such as obtaining power of attorney: an unnecessarily complicated and costly means of managing her finances in order to care for her properly. Individuals with dementia and their families are essentially cast adrift, and the only sources of useful information are underfunded, over-stretched charities."